If you've wondered where many of those YouTube videos get their background music from, you've come to the right place. Music with Creative Commons licenses are music compositions written, produced and shared by people who do not charge anything when you use their music for your own use, commercially or non-commercially.
Basically, they make the music and keep ownership and copyright of it and you get the permission to use it for your videos, film or small multimedia productions, as long as you credit the creator properly.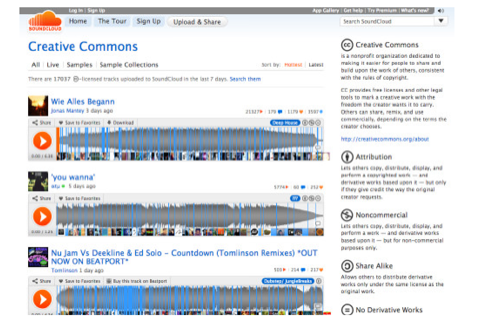 There are many sites out there that house music with Creative Commons licenses, sites where you can download music for free (and legally). These sites make it very easy for you to use, all you have to do is pick an audio clip you like and save it as an MP3, and there you have it, your free music download.
Jamendo
Jamendo has more than 350,000 audio files on their database, which includes music in a few different languages and from different countries. Its advanced search will help you narrow down what you're looking for on their large database.
There is also a 'Radio' option where you can listen to music like on a radio channel based on genre. By registering and logging in, you can save personal favourites to your account.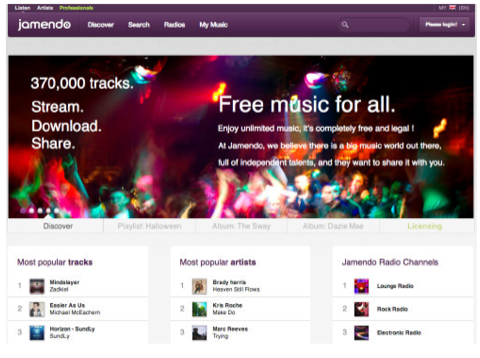 Freesound
Freesound is a collaborative database for Creative Commons Licensed sounds. This database here is filled with sound effect such as ambient noises, synthesized sounds and sounds produced by musical instruments.
Browse, download and share sounds on Freesound; you can also upload your own audio clips to their database after registering for an account on the website.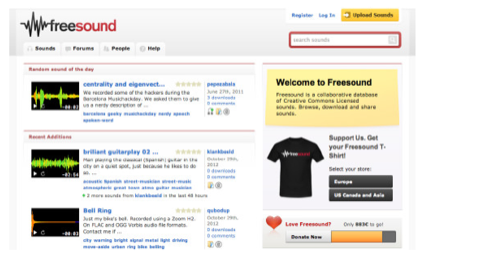 ccMixter
Music on this site can be downloaded and shared with anyone, anywhere, anytime. Clips here focus on instrumental samples that are mainly used for remixes on DJ music. There is a wide variety of samples to choose from, which can be sorted by tags that describe the audio clips.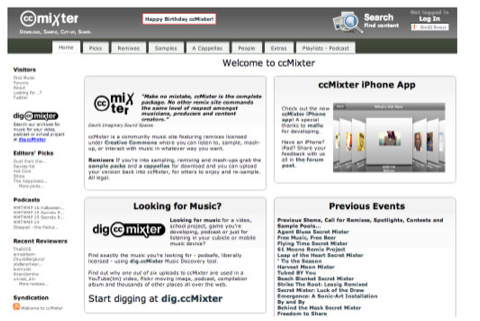 Kompoz
Kompoz is an online community that prides in collaboration between artists from all over the world. Artists post their clips on the website where anyone can download it and use it for their own productions. They can also add their own instruments or creative mix to the original clip and upload it on the website again.
As more people collaborate on the original clip and the clips after that, it will eventually become a creative collaboration of multiple musicians.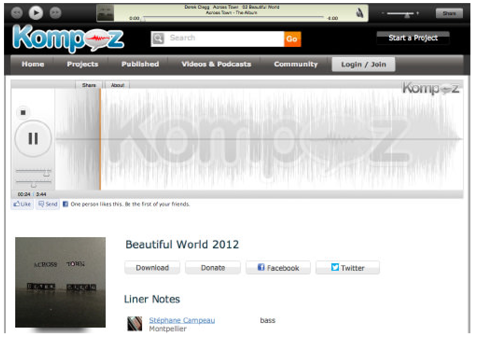 SoundCloud
SoundCloud is a very popular website where famous artists share their new tracks to the world. There is a section under Creative Commons license where you can download other people's tracks. You can stream the available clips and it takes just a simple click to get the MP3 file without any registration.
Note that some tracks however require you to 'Like' their Facebook page before you can download their clips.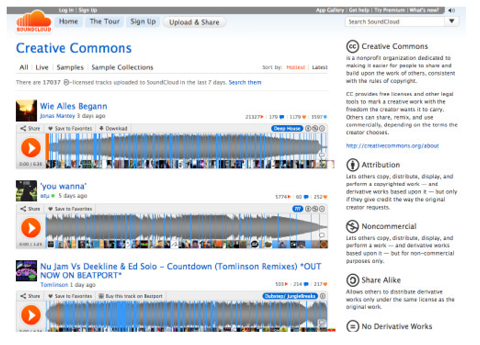 BeatPick
On BeatPick, you have a music player kind of interface where you can listen to any song on a list. To download any song from the website, you'll have to register for an acoount. Most of the clips are instrumental, with very little vocal input.
The clips also come with descriptions of what it sounds like, which can be useful to match to whatever the theme your clip is.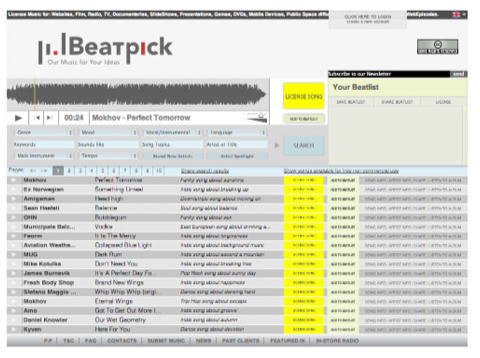 Restorm
This is a website mostly used by indie artists who want a platform to sell their music to the public and have their works licensed under their name. You too can do the same, or download some of their free selection of music just by creating an account.
The full songs available on the website can be streamed to help you decide if you want to download it. Some of the artists also have songs in their native language not just English.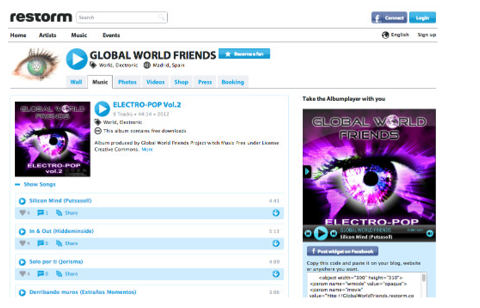 Musopen
Musopen is a website where you can find free music from individual instruments in an orchestra: violins, cellos, violas, etc as well as a combination of instruments. It caters to the genre of quieter music like classical music or jazz.. Best of all, you can also download sheet music.
You can also browse music by sorting it by composer, instrument and even the period of time the music clip resembles.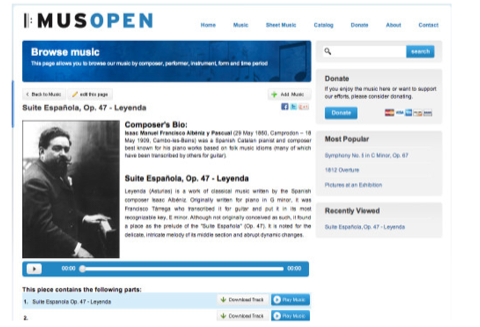 Vimeo
You might recognize Vimeo as a place only for videos, but it also offers free music which you can use as long as you give credit to the original artist. After clicking download, your download will start and a pop-up window will appear with the details of the clip's title, artist and website.
For example, when using a music for a YouTube video, you would use those details and place it at the credits of your video or video description.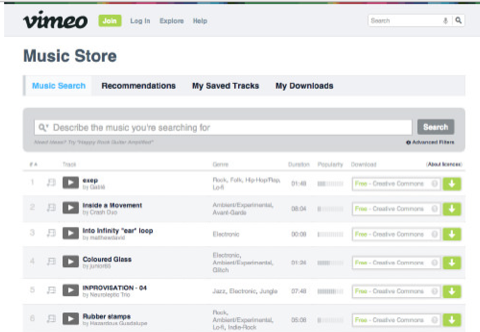 ArtistServer
ArtistServer has over 11,000 MP3 downloads by more than 10,000 artists and you can be one of those artists too when you sign up with them. They have clips of many genres for you to choose from which you can download for free.
It is also possible to preview the entire clip before making your selection and downloading it.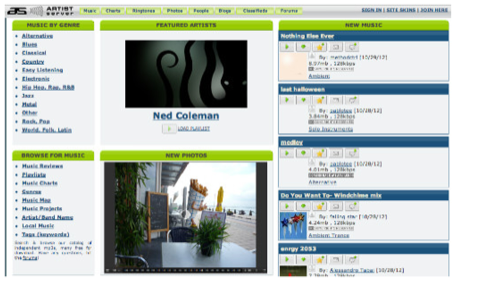 Audiofarm
Audiofarm has a wide selection of genres to choose from, uploaded by ordinary people who want to share their music. You can easily download any song you like by clicking the download link – no registration needed.
The full song can even be played while browsing for one that fits your needs. By registering, you can upload music for other people to download.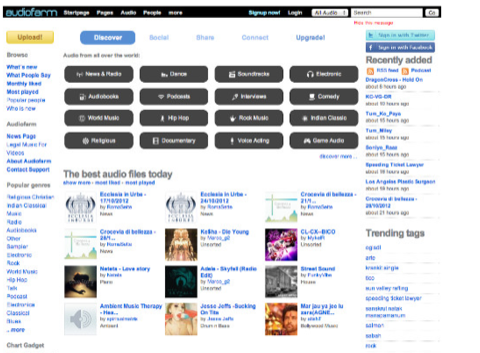 iBeat
If you're a DJ or anyone else looking for some free beats and loops, iBeat has a wide database of clips which are free under Creative Commons licensing. The beats available come in a variety of genres such as rock beats, hip hop beats and even acoustic or electronic beats. No registration required.