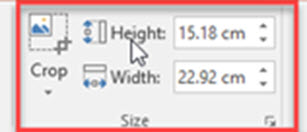 Change units from inches to centimeters in Office 2016 and 2013.
First Close the Power-Point.
Go to Control Panel.
In Win10, click Start and type Panel or Control Panel.
Click Clock, Language, and Region. The options that look are different for various versions of Windows:
If you are using Windows 10, Windows 8 or Windows 7, in the Region or Region and Language dialog box.
Click the Format tab, click Additional settings.
Select Metric Tab from the Measurement system list, and click OK. 
If you are using a different version of Windows, see for a Numbers option which that includes a Measurements, and then change the value to Metric. Click on Apply the changes.
Start PowerPoint.
The rulers have displayed measurements in the system you chose.