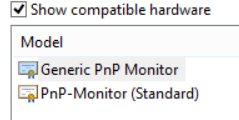 SOLVED
I had the same problem on two laptops from different manufacturers (Lenovo and Toshiba), but both running Win8.1. On both laptops the manufacturer's display brightness keys wouldn't work, the brightness control in the Charms bar wouldn't work and I didn't even have the brightness controls available in the Power Options plan settings.
I found this after many hours of searching. Many of the suggestions have to do with the display driver, and while that worked for some people, I had tried every method that was different from the rest – until I found this one:
In Device Manager (Windows Key + C –> Settings –> Control Panel –> Device Manager)
Click on the arrow next to Monitors to expand it (my guess is you have "PnP-Monitor (Standard)" showing).
Right-click that and select "Update Driver Software…".
Then click on "Browse my computer for driver software".
Then click on "Let me pick from a list of device drivers on my computer". You should see something similar to this:Click image for larger version Since I had PnP-Monitor (Standard) selected when I had the problem, I selected Generic PnP Monitor.
Select whatever wasn't installed before and click Next.
It will go through the installation and then you can click "Close".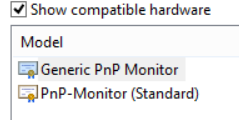 Now try your brightness keys on your laptop keyboard or the brightness control in the Win Charms bar.
I really hope this worked for you because if you've gotten this far, you've probably been trying to fix it for a long time!