Maria Trujillo Olaiz was born in Mexico and grew up in Singapore, but also counts South Korea, Saudi Arabia, and London among her many homes. After completing her Graphic Communication and Design degree at the University of Leeds this year, she founded her own creative boutique Aquí, which translated from Spanish is "here and now." Its homonym in Japanese, Aki, means "bright and radiant." These combined, Maria says, are qualities that the company aims to bring to every project, "by being present as well as by setting clear and luminous goals."
Graphic Designer
Singapore, Mexico, GB
Aquí Design, An ethically driven creative boutique www.aquidesign.com
Singapore, Singapore
Tell us about Aqui and its origin story. Aqui is an ethically driven creative boutique harnessing the power of design to create a clearer now and a better tomorrow.
We create brand identities, websites, apps, books, and objects for people who are making a positive change in the world. We aim to connect, support, and understand our clients and their businesses on a deeper level, through open communication.
I've done agency work in London, Copenhagen, and Singapore, which helped me realize I wanted to join the entrepreneurial world and be my boss. That's when Aqui was born.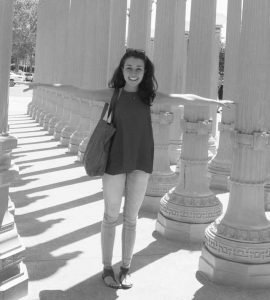 What, in your opinion, is a good design?
To me, Dieter Rams [the German industrial designer whose most notable work is with Braun] describes good design perfectly:
"Good design is honest. It does not make a product more innovative, powerful, or valuable than it is. It does not attempt to manipulate the consumer with promises that cannot be kept."
I live by these words from Rams.
What is the best piece of advice you've received?
It comes from a birthday present my dad gave me, the book The Little Prince by Antoine de Saint-Exupéry.
In the book, the Little Prince meets a businessman who counts all the stars in the galaxy again and again so that he can "manage" them. The businessman explains that it's difficult to work, but he does it because he's "a serious person." As we get to know the character, it becomes clear that his seriousness leads to the beauty of the stars he owns being lost on him.
It taught me not to take myself too seriously and to appreciate the beauty that life offers.
What is one thing about you that might surprise most people?
I have been meat-free for more than a year now! Not eating meat is my way of reducing my carbon footprint and taking action on the current global environmental crisis.
What's next for Aqui?
We will be launching case studies on our website, and we hope to work on more exciting new projects with the community of The Working Capitol as well as with others around the world.